Philosophy System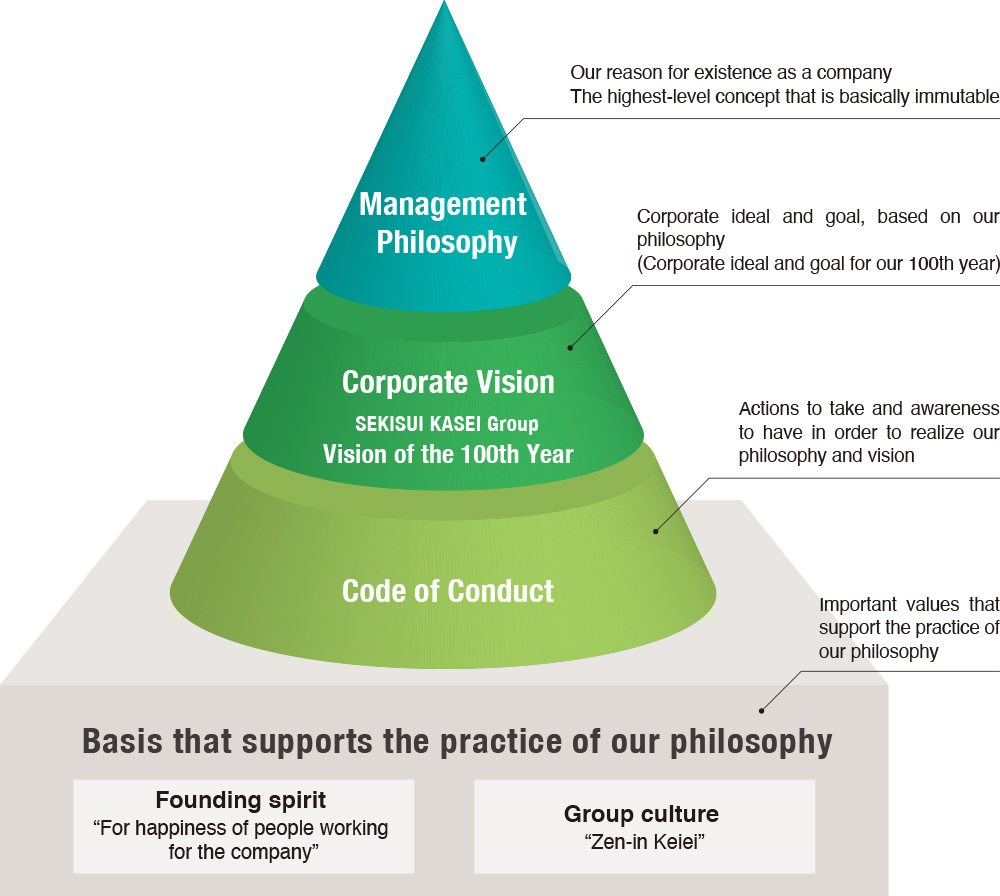 Management Philosophy
We, SEKISUI KASEI, practice "Zen-in Keiei" based
on respect for people and mutual trust. We are always innovating
in our aim of "new happiness".
Corporate Vision
A new chemical solutions company that cares
for people and the planet as it creates new value
Code of Conduct
Entrepreneurship

We value high motivation, original thinking, a desire to create, a high degree of independence, and a bold attitude toward risk, in pursuit of new growth opportunities such as innovative business models and materials development.
Honesty

We not only ensure that everyone is honest, but also comply with laws and regulations, fulfill our social responsibility, and adhere to business ethics.
Harmony

We value harmony with people, harmony with society, and harmony with the environment.
Basis that supports the practice of our philosophy
Founding spirit
"For happiness of people working for the company"
"The value created through our work makes us, our families, our customers, our stakeholders, and society all happy. That leads to the happiness of people working for the company." This is set forth in our founding spirit.
Group culture
"Zen-in Keiei"
Each individual of SEKISUI KASEI Group fully recognize the aim of the entire Group and achieves goals by joining forces as a team and cooperate each other while optimizing personality and strength of individuals. What leads to greater achievement of the entire Group. This is our group culture "Zen-in Keiei" we value.