SEKISUI KASEI Sustainability
SEKISUI KASEI Sustainability
SEKISUI KASEI Group is working on a higher level of corporate social responsibility and shifting to businesses that solve environmental and social issues with the aim of "enhancing environmental value, social value, and economic value for sustainable development".
Sustainability Policy of SEKISUI KASEI Group
SEKISUI KASEI Group is committed to fulfilling our
social responsibility to all stakeholders, including the global environment,
by carrying out our management philosophy.
We strive to contribute to the sustainable
development of society globally and to enhance
the sustainable corporate value.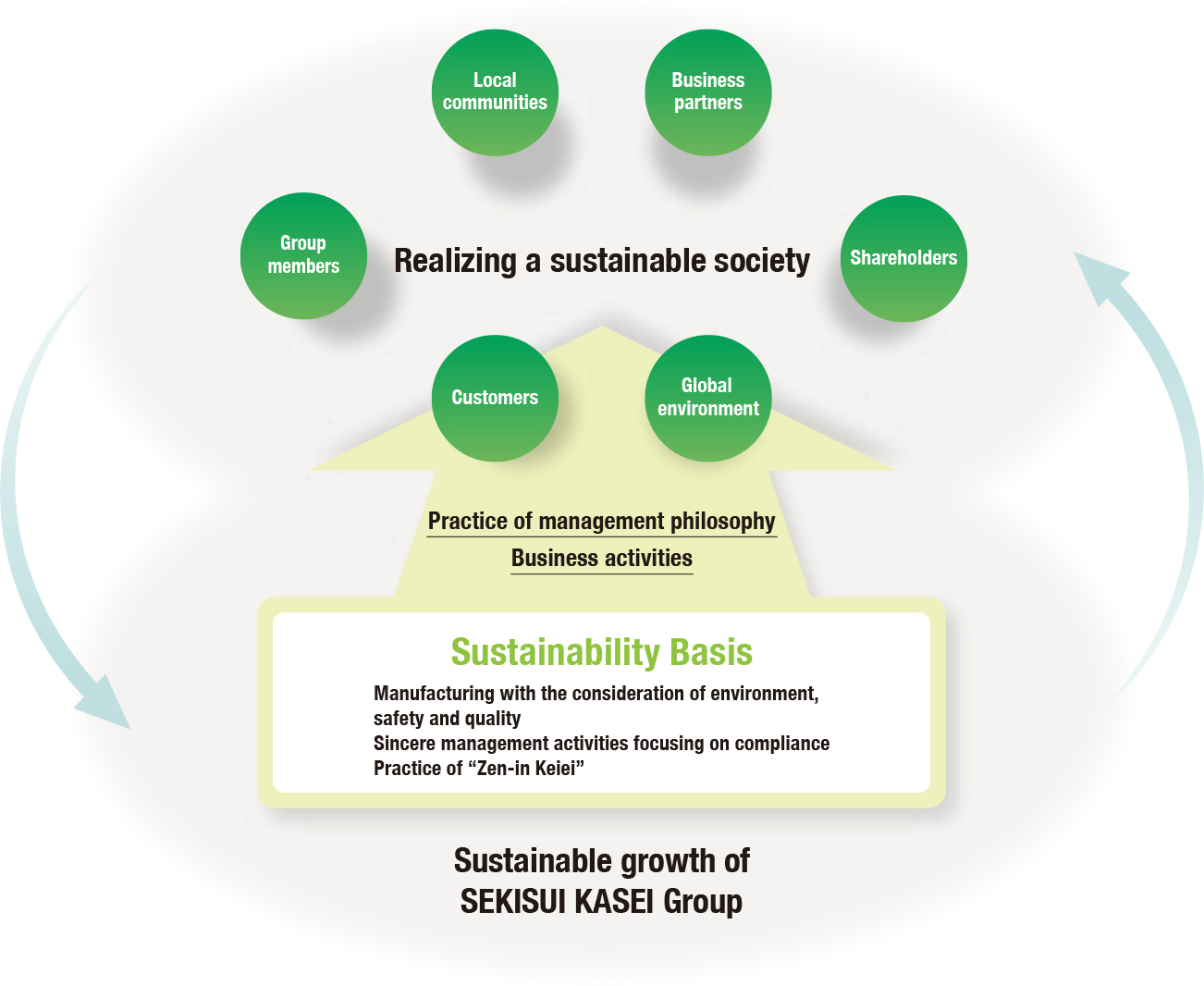 Responsibility to Stakeholders
| Stakeholder | Responsibility of SEKISUI KASEI Group |
| --- | --- |
| Customers | At SEKISUI KASEI, we not only supply safe/reliable products but also bring comfort and convenience to the lives of people by always creating new functions/value and proposing materials/services as solutions for customers. |
| Group Members | At SEKISUI KASEI, we place emphasis on respect for people and mutual trust and pursues the happiness of people working for the company. For the purpose, we will improve fairness to skill development and rating, and make efforts to create a healthy/safe work environment, and a good balance between work and family. |
| Local Communities | At SEKISUI KASEI, we believe being a safe workplace is the most important to communities. In addition, as a member of local communities, we aim to be a company trusted and loved by the whole community. |
| Shareholders | At SEKISUI KASEI, we meet expectations from shareholders with returns by improving its corporate value. Furthermore, we focus on the active disclosure of our management information and dialogue with shareholders. |
| Business Partners | At SEKISUI KASEI, we build trust in relationships with business partners through fair, honest business practices with sincerity as our motto. Also, we aim at co-existence and co-prosperity as a better partner for the partners. |
| Global Environment | At SEKISUI KASEI, we actively endeavor to improve environment to protect our precious earth. In particular, we contribute to develop the recycling-based society and the low-carbon level centering on foam plastics which are eco materials. |