ESLEN Beads(Fish Box)
Expanded polystyrene fish box
Overview
Suitable for storing and transporting fish and shellfish. Designed to keep seafood fresh during transportation from producers to consumers, it can be designed to suit a range of processed foods.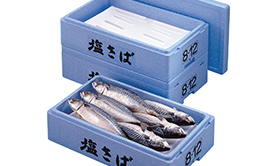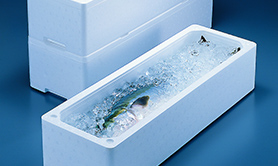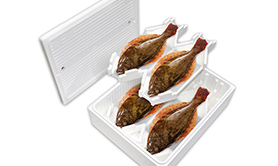 Applications
・Box for fish and processed food:

Available in a wide range of types and sizes.

・Functional fish box:

Drains with a water seal trap are installed in all four corners to prevent the outside air from entering the box, keeping the box tightly sealed and preserving the ice longer.

・Tuna box:

Available in a wide range of sizes to be suitable for transporting large fish of between 30 and 100kg.

・Freezable EPS fish box:

Requires less time for freezing compared to traditional EPS fish boxes, thus reducing damage of seafood products caused by freezing. Can also keep the content cool for a longer time compared to cardboard boxes.
See Other Categories