Neo Flatboard
Non-cross-linked polypropylene foam board
Overview
Board-shaped foams made from flattening extruded polypropylene resin sheets. A range of densities are available to meet various quality needs.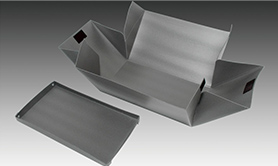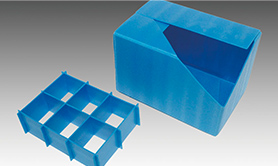 Features
・Flexible, light-weight:

Lightweigt, sturdy, crack-resistant foamed boards.

・Processability:

Can be easily cut out or trimmed off. Their resistance to bending and torsion makes them suitable as returnable boxes and dividers.

・Heat and oil resistant:

Heat and oil resistance of polypropylene resin is leveraged in automobile interior materials, as well as returnable boxes and dividers for industrial products.
*The antistatic grade offers antistatic performance which will not wash off.
Applications
・A range of curing boards
・Delivery-box liners
・Returnable boxes and dividers
See Other Categories