NEOSHIKILON
Non-cross-linked polypropylene composite foam sheet
Overview
Multi-layer polypropylene sheets combining a high-density core with a low-density surface layer.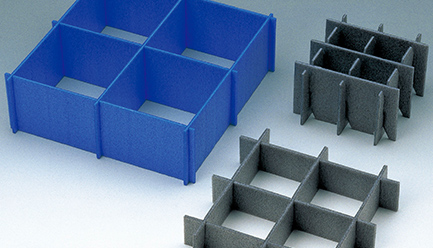 Features
・Shock-absorbing, scratch-resistant properties:

The soft, low-density surface offers shock-absorbing, stratch-resistant protection, while the rigid high-density core provides firmness and strength.

・Self-adhesive:

Its thermal adhesive properties exhibit self-adhesiveness.

・Moisture resistant:

Designed to prevent water and moisture penetration.

・Processability:

Can be easily cut out or trimmed off.

・Resistant to oil and chemicals:

Resistant to damage by oil and chemicals.

・Recyclable:

Non-cross-linked recyclable material.
Applications
・Returnable boxes and dividers
・Curing boards
・Shock absorbers for pallet liners
Contact Us
・Functional Foam Products Sales Group
Functional Foam Products Business Division
The 2nd Business Headquarters
See Other Categories