Home Appliance /
Information Technology
ST-Eleveat
High heat resistant and Light weight foamed plastics
Overview
ST-Eleveat is foamed plastics foam with excellent heat resistance, flame retardancy, heat insulation and light weight. Especially suitable for use under a high-temperature conditions.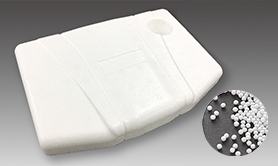 Examples of developed products
C type : Polycarbonate bead foam
E type : Polyester bead foam
Features
・High heat resistant

C type : 120℃×168hrs
E type : 180℃×168hrs

*The dimensional shrinkage of each grade under static temperature conditions is 1% or less.
* Especially C type has little change in physical properties from the minus temperature range to the high temperature range.

・Flame retardancy

Passes FMVSS302.

・Light weight

ST-Eleveat is 80-90% lighter compared to non-foamed plastic molded products.

・Moldable into a wide range of shapes:

In principle, ST-Eleveat C type and E type can be processed on the same molding machines which are designed for processing of Epp. It is also possible to make a form core material of CFRP / GFRP composite structure.
Applications
・Automobiles / Transportation
・Aircraft / Ships
・Electronic devices
・CFRP / GFRP foam-core sandwich Structure
Product lineup
・ST-Eleveat BIO

Environmentally friendly products that used plant-derived materials.
・ST-Eleveat RE

Environmentally friendly products that used 90% or more of recycled materials.
<E series>
Technical Data
subject/test method
unit
ST-Eleveat
BIO E
ST-Eleveat
RE E
Bio:25-30%
Recycle:over 90%
Color
-
Natural
Grey
Part density
g/cc
0.15
0.15
Compressive strength
(ISO 844)
5%
MPa
1.0
0.9
10%
1.2
1.0
25%
1.5
1.4
modulous
33
28
Bending test
(ISO 1209-2)
maximum stress
MPa
1.4
1.5
modulous
42
37
Dimension stability
(ISO 7214)
180℃
(168hr)
%
<±1%
<±1%
Flammability
FMVSS 302
-
pass(0)
pass(0)
UL94
-
V-2
V-2
Coefficient of thermal expansion
(TSM5725G)
1/℃
6.8×10-5
7.1×10-5
Thermal conductivity at 30℃
(JIS A1412-2)
w/m・k
0.040
0.039
Contact Us
・Functional Foam Products Sales Group
Functional Foam Products Business Division
The 2nd Business Headquarters
See Other Categories