ESLEN Beads
Pre-expanded polystyrene beads
Overview
Pre-expanded polystyrene beads as a raw material for expanded polystyrene (EPS)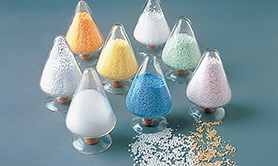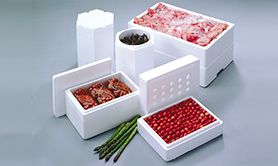 Features
<Characteristics of Expanded Polystyrene>
・Heat insulating:

Unconnected voids prevent heat transfer, keeping the temperature warm or cold.

・Shock absorbing:

Offers a combination of cushioning and strength, making it suitable as packaging and shock absorbers.

・Water resistance:

Unconnected voids are inaccessible for water storage, preventing water and moisture buildup.

・Light-weight:

When expanded by 50 times, the air accounts for 98% of its cubic volumn making it extremely light in weight.

・Processability:

It can be expanded at any rate and molded into any shape to meet the purpose.
Applications
・Box for fish and agricultural produce:

Designed to keep food fresh by keeping it warm or cold.

・Shock-absorbing packaging solutions:

Protect delicate equipment and consumer electronics products from shocks during transportation.

・Food packaging and drink cups:

Designed to keep the content warm for a long time.

・Heat insulating building materials:

Energy-saving insulating materials designed to prevent the outside air from entering inside.

・Civil engineering materials:

Suitable as embankment materials for roads and reclaimed land.

・Cushion filling:

Microbeads offer soft and moldable support.
Lineup
・High-cycle beads:

An energy-saving alternative for a shorter processing time.

・Self-extinguishing ethylene beads:

ESLEN beads that do not contain hexabromocyclododecane flame retardant.
Contact Us
・EPS & Polymers Sales Group
EPS & Polymers Business Division
The 1st Business Headquarters
See Other Categories