ST-Eleveat
High heat resistant and Light weight foamed plastics
Overview
ST-Eleveat is foamed plastics foam with excellent heat resistance, flame retardancy, heat insulation and light weight. Especially suitable for use under a high-temperature conditions.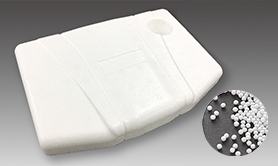 E Series : Polyester bead foam
Features
・High heat resistant

E Series : 180℃×168hrs

*The dimensional shrinkage under static temperature conditions is 1% or less.

・Flame retardancy

Passes to FMVSS302 standard.

Passes to "V-2" and "V-0" in the UL94 standard flame resistance test.

・Light weight

ST-Eleveat is 80-90% lighter compared to non-foamed plastic molded products.

・Moldable into a wide range of shapes:

In principle, ST-Eleveat C type and E type can be processed on the same molding machines which are designed for processing of Epp. It is also possible to make a form core material of CFRP / GFRP composite structure.
Applications
・Automobiles / Transportation
・Aircraft / Ships
・Electronic devices
・CFRP / GFRP foam-core sandwich Structure
Product lineup
・ST-Eleveat BIO E

Environmentally friendly product utilizing biomass-derived plastics.
・ST-Eleveat BIO E High Fire Resistance grade

Environmentally friendly product with improved flame retardance compared to "ST-Eleveat BIO E"
<E series>
Technical Data
Test standard
Unit
ST-Eleveat™ BIO E
ST-Eleveat™ BIO E
Fire returdant type
Color
-
Natural
Natural
Biomass ratio
-
Biomass 25%
Biomass 15%
Part density
g/L
150
200
300
150
200
300
Compressive strength
(ISO 844)
5%
23℃
MPa
0.9
1.3
2.6
1.0
1.5
3.0
10%
1.0
1.5
3.1
1.2
1.8
3.8
25%
1.3
2.0
4.2
1.5
2.3
5.2
modulus
26
37
77
28
42
89
Bending strength
(ISO 1209-1)
maximum stress
MPa
1.5
2.3
4.0
1.1
2.2
3.4
modulus
37
65
128
30
70
150
Tensile strength
(ISO 1926)
maximum stress
MPa
1.0
1.5
2.6
1.1
1.4
2.0
modulus
40
53
78
31
46
77
Dimension stability
(ISO 7214)
180℃(168hr)
%
<±1%
<±1%
Flammability
FMVSS 302
mm/min.
pass(0)
pass(0)
UL94
-
V-2 (5mmT)
V-0 (11mmT)
Coefficient of thermal expansion
(TSM5725G)
1/℃
4.4×10-5
3.6×10-5
1.0×10-5
4.2×10-5
3.6×10-5
3.6×10-5
Thermal conductivity at 30℃
(JIS A1412-2)
w/m・k
0.040
0.045
0.059
0.038
0.042
0.051
See Other Categories