Basic Views to Corporate Governance
Based on our management philosophy that "We, Sekisui Kasei Group, practice "Zen-in Keiei" based on mutual respect and trust. We are always innovating in our pursuit of new happiness", we have made it important to establish corporate governance in an effective manner, to ensure management transparency and soundness, and to establish a system that can respond promptly to changes in the environment.
Corporate Governance Systems
Features of Corporate Governance Systems
We conduct the business execution, and supervision and audit by the governance system comprised of our organizations described below.
With eight members of board of directors, three of whom are outside directors, we make management decisions in a rational and efficient manner. All important decisions are required to be fully deliberated by the board of directors. In order to clarify the management responsibility of directors and establish the management system that can make prompt action to any changes in the business environment, director's term of office is a period of one year.
We have several committees that manage and deliberate on our compliance, risk management and CSR;
-to complement the function of our headquarters organization;
-to achieve our speedy and rational decision-making; and,
-to supervise our organization internally and mutually from the viewpoint of compliance, ethics and CSR, etc.
Each of our outside directors has roles of supervisory and advisory functions with a wealth of experience in and a high level of insight as a corporate manager.
In order for our outside directors to make their respective informed decisions, materials for the board meeting are distributed and explained by the secretariat of the board of directors in advance. Furthermore, regarding important decisions, additional explanations to outside directors are provided by our internal directors appropriately.
Chart of Corporate Governance Systems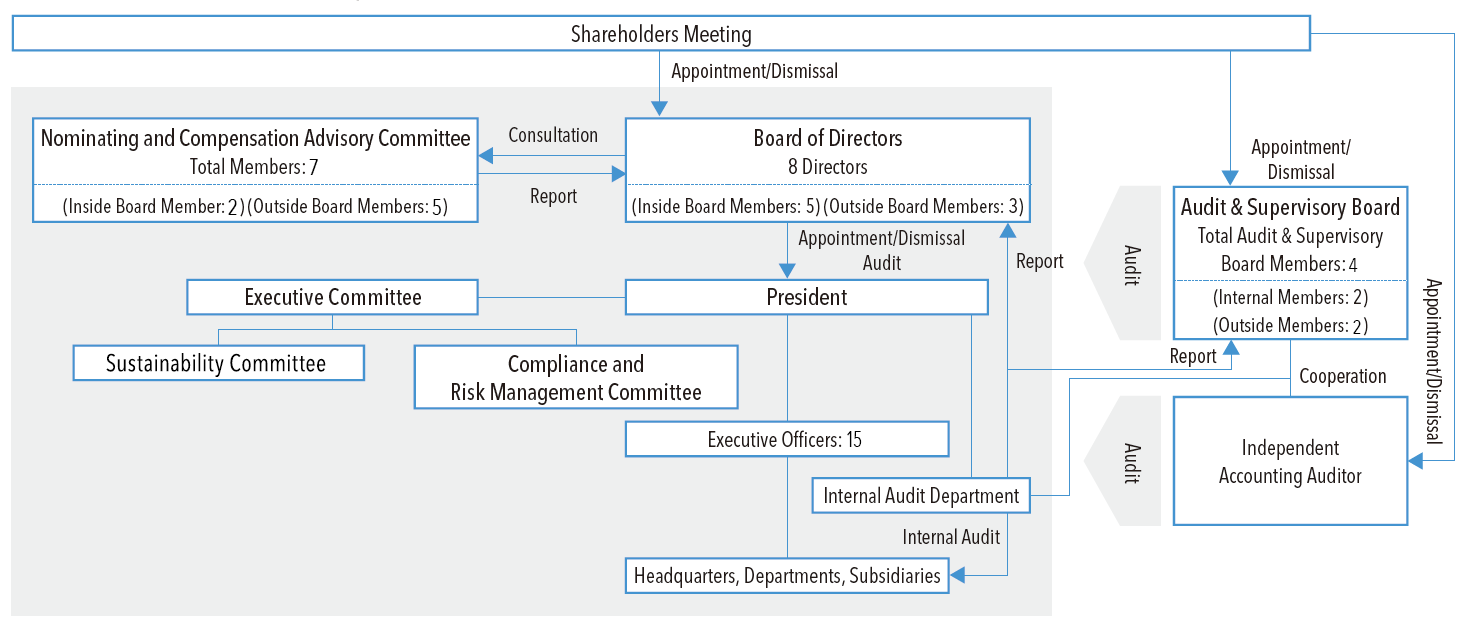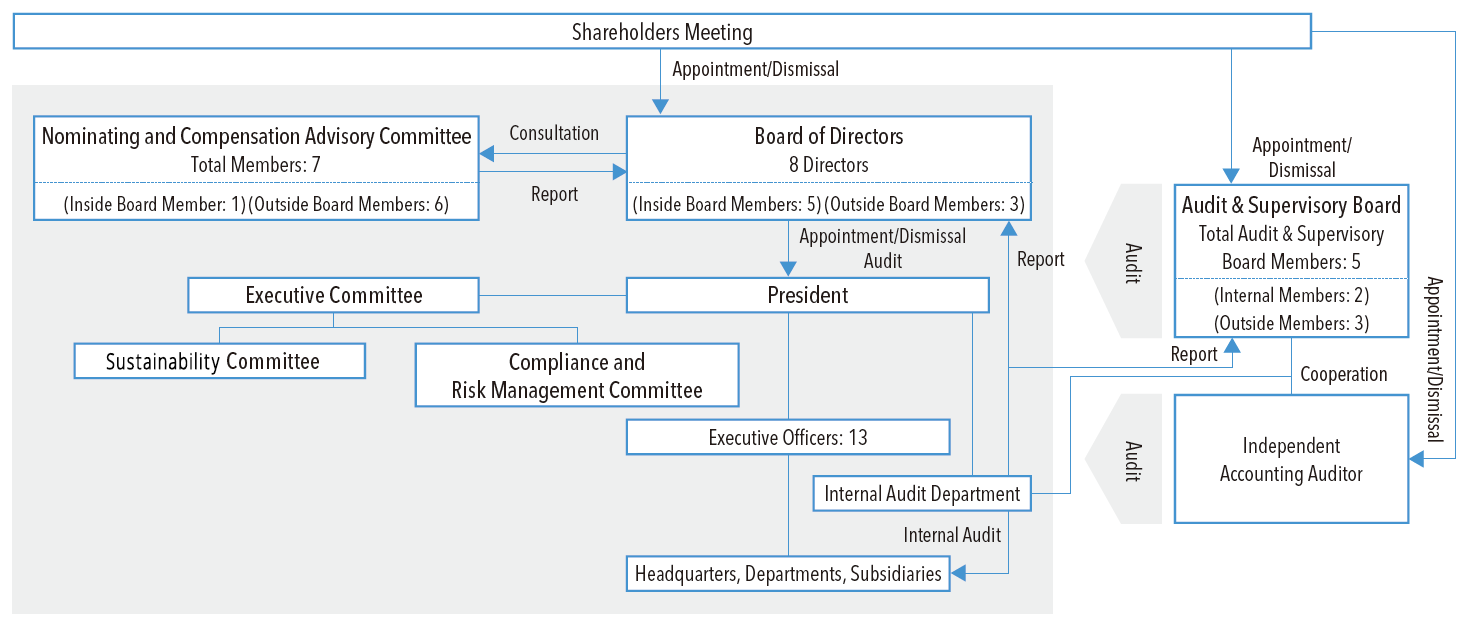 Audit System:
We set up Audit & Supervisory Board System, consist of five company auditors, who monitor and audit the execution of operations with directors. To enhance the auditing function and ensure the rationality, transparency and fairness in our management decisions, we appoint three outside company auditors made up of a majority of the audit & supervisory board. We also maintain the reporting system so that any important issue is communicated within audit & supervisory board thereof appropriately and on a timely basis.
In addition, for more effective supervising and monitoring the execution of operations, we implement several measures, based on our Internal Control Policy, such as;
-establishing internal control framework by internal audit department; and,
-facilitating linkage and cooperation among audit & supervisory board, our internal audit department, and independent accounting auditor.