We strive to improve the efficiency of management, including speedier decision-making, while ensuring the transparency, soundness, and fairness of management, thereby responding to the expectations and trust of our stakeholders.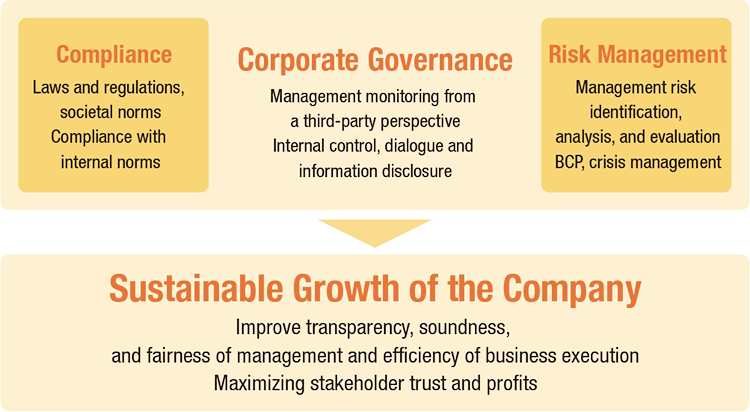 Corporate Governance
We, SEKISUI KASEI, practice "Zen-in Keiei" based on respect for people and mutual trust. We are always innovating in our aim of "new happiness." Based on this management philosophy, one of our materiality issues is to ensure the effective functioning of corporate governance, to ensure the transparency and soundness of management, and to establish a system that can respond quickly to changes in the business environment.
Compliance
We define compliance as not only complying with laws and regulations, but also ensuring that operations within SEKISUI KASEI Group are carried out in an appropriate manner by complying with related rules and regulations while acting with integrity based on the values, personal ethics, and corporate ethics required by the society in which we operate. SEKISUI KASEI Group Compliance Action Guidelines define how we should act as a corporate entity as part of our effort to promote a strong relationship with society. With the goal of strengthening and promoting compliance throughout the Group, we established the Compliance and Risk Management Committee to ensure ongoing compliance with all laws and regulations. The Compliance and Risk Management Committee meets in principle once every six months to discuss compliance issues within SEKISUI KASEI Group and to report any items for attention to the Executive Committee. We have also established Compliance Committees and Compliance officers at Group companies, depending on their size, with the goal of further promoting cooperation within the Group.
Risk Management
In SEKISUI KASEI Group, the departments in charge of each type of risk formulate response plans and take specific countermeasures under the basic policy on risk management established by the Compliance and Risk Management Committee, which manages all risks. Further, the Compliance and Risk Management Committee creates a matrix of currently assumed risks according to their degree of severity, and evaluates and deliberates on the response status based on reports from the departments in charge of each risk. The committee then operates on a system of reviewing the risk response measures and repeating the PDCA cycle depending on the results of their evaluations and deliberations. In addition, the management status of each risk is reported and shared with the Board of Directors and Executive Committee.