Automotive Components /
Transportation
Floor Spacer
Automotive Components (Floor Spacer)
Overview
Floor Spacer for automobiles using PIOCELAN as the main material.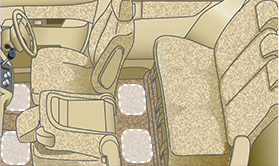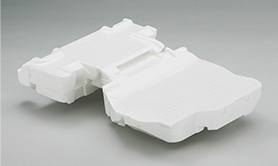 Features
<Characteristics of "PIOCELAN" as car parts>
・Excellent impact absorption

Excellent impact absorption is provided by its unique material property of the hybrid polymer.

・Light-weight

Higher expansion ratio (lower density) enables vehicle weight reduction, saving fuel, reducing battery consumption of EV.
Applications
・Floor Spacer:

Used to fill the gap between the chassis and interior floor or to adjust the height of the interior floor. A range of solutions to improve the interior environment (low noise, low VOC) and molded inserts made of metal and resin are also available.
Contact Us
・Automotive Components & Shipping Systems Sales Group
Automotive Components & Shipping Systems Business Division
The 2nd Business Headquarters
See Other Categories