Medical / Cosmetics /
Healthcare
Hydrogel cosmetic masks
Overview
ST-gel is a brand name for a range of high-performance gel materials. ST-gel CP is a range of hydrogen masks that we offer as OEM skincare/cosmetic products.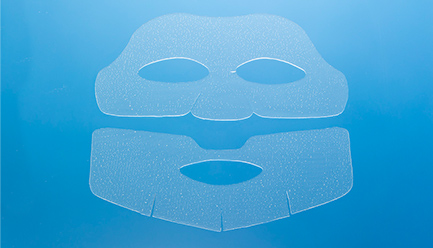 Features
• Gradual release of effective ingredients:

The gel texture allows moisturizing ingredients to be gradually released into the skin throughout the day/night for maximum benefits.

• Cooling benefits:

Gel offers a long-lasting cooling relief.

• Excellent water retention:

Gel can be produced to contain a high proportion of water.

• Soft, jelly-like texture:

The jelly-like texture feels soft on skin and gently covers the skin.

• Ingredients retention property:

Even heat-sensitive ingredients can be combined in gel.

• Transparent appearance:

The transparent material creates a more premium appearance than unwoven fabric.
Applications
・Skincare masks (cosmetics/quasi-pharmaceutical products)

Facecare:

A range of masks of different shapes for the whole face, under the eyes, cheeks and the lips are available.

Bodycare:

Hydrogel masks are used in spas for both facecare and bodycare.
Contact Us
・Chemical Products Sales Group
Chemical Products Business Division
The 2nd Business Headquarters
See Other Categories