Medical / Cosmetics /
Healthcare
A range of electrode and processed gel products for medical professionals.
Overview
ST-gel is a brand name for a range of high-performance gel materials. Solvents such as water and water retention agents, electrolytes and additives are embedded in a three-dimensional polymer matrix to form a stable structure.
ST-gel is used in healthcare facilities as electrodes for biological measurement that can detect and measure biological signals.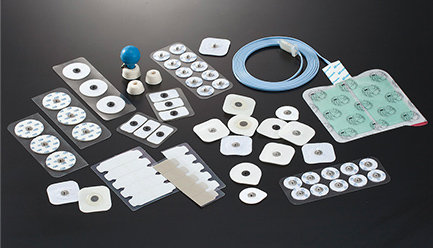 Applications
・Biological sensors
・Electrodes for electrocardiogram
・Electrodes for electroencephalogram
・Return electrodes for electrocauterization
Other
・ISO 10993-compliant biocompatible medical device: Safety tests was performed according to ISO10993;

Cytotoxicity tests according to ISO10993-5:2009;
Irritation / Intracutaneous Reactivity tests according to ISO10993-10:2010;
Sensitization tests according to ISO10993-10:2009

・Medical devises (Compliance with the Medicines Act)

Design, development, manufacturing and quality management of biological electrodes according to the Ministerial Order on QMS.
Contact Us
・Chemical Products Sales Group
Chemical Products Business Division
The 2nd Business Headquarters
See Other Categories